The COVID-19 pandemic created a lot of devastation, uncertainty, and long-lingering impacts from which modern society, leaders, and markets will be looking back on for years to come. While these impacts will be the dominating memory, and rightfully so, the situation that required people to drastically adjust their ways of lives create countless 'natural experiments' of sorts, and the energy sector at large was a key area in which this occurred.
Some of the dominating trends observed included pollution reductions while populations quarantined at home, utilities putting a moratorium on shutting off power for those who couldn't pay their bills, and delayed construction for many new generation projects that were in the pipeline. However, among the most interesting impacts to look back on in 2020 during the height of COVID-19 were the impacts to energy consumption.
Impact #1: Expected Daily Patterns and Total Consumption Patterns To Be Revisited
Typically, power use elevates in the morning as people wake up and start to get ready for the day: showering, cooking breakfast, etc. By mid-morning when people are at work, school or other places of mass congregation, total energy demand drops because energy can be more efficiently used during these times (e.g., heating one office building with 100 people in it is more efficient than heating 100 individual homes). In the early evening, as families return home, they tend to use the most energy to turn on their lights, operate their appliances, cook dinner, wash clothes, etc.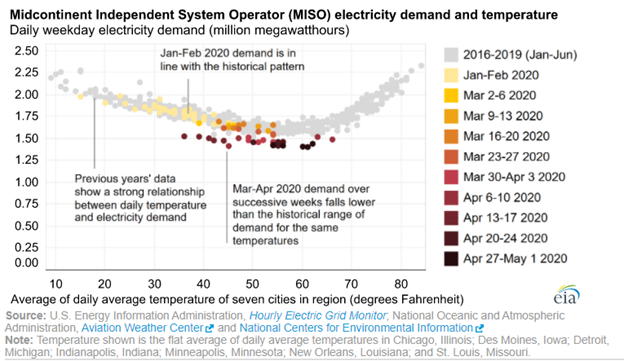 Utility leaders never had reason to question this pattern. However, with people working and schooling virtually from home experts saw overall that electricity demand during COVID-19 weekdays more closely resembled "Sunday levels." That is, the average household didn't see as extreme a ramp up during the morning nor as high differences between mid-day and early evening. Instead, energy use was more evenly distributed throughout the day as virtual work and school technologies were used all afternoon, households weren't turning off air conditioners during the day because the house wasn't empty, and the general day-to-day energy use patterns changed with the daily habit change. The overall trend was still observed to a degree, but the drastic differences between times of day were dampened.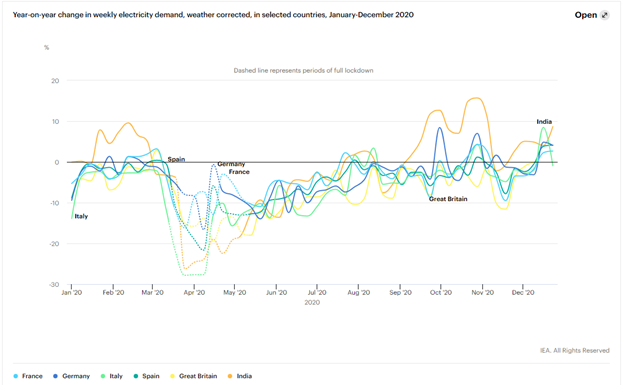 These changed observed trends aren't inherently a positive or negative, but rather they are trends that must be considered in the context of the whole system. How does a changing demand profile impact the relative costs of different energy sources? How can and should utilities change their infrastructure buildout plans? How might this shift the decision-making process of customers considering investing in rooftop solar?
Impact #2: Slowing Consumption Growth Puts Clean Energy Projects on Hold
According to EIA's Annual Energy Outlook, the United States is likely not to return to the 2019 level of energy consumption until 2029. This drop in energy consumption is not a specific success of any energy efficiency measures or integration of on-site generation that reduces the demand on the grid, but rather a reflection of the economic impact felt by the pandemic reducing overall output.
Stepping back, the pipeline of new energy generation projects has been planned and financed assuming a previously predictable growing power demand across the sector, largely to be filled with clean energy projects. The integration of these projects would reduce the overall carbon intensity of the grid and put the nation on the right path to meet climate targets. With less demand growth than anticipated, not to mention renewable financers getting hit hard, the result could be a longer time period before clean energy replaces fossil fuels.
Impact #3: Customers Want More Control
During the COVID-19 pandemic, the dire situation of energy poor homes across the country became all too evident. Certain regions of the country seeing their low-income households forced to pay up to 14% of their income on utility bills alone. When the economic crisis unleashed by COVID-19 hit and many of these people lost their jobs, that energy burden became even more challenging. Utilities largely stopped collecting payments from these homes and ceased power shutoff threats, but into 2021 those homes are now looking at having to pay back those unpaid bills and see the threat of going without power once again.
In these situations, the long-term impact of COVID-19 may have a couple of widespread impacts. First, these homes are going to need even more to find ways to reduce their power bills. While they were certainly conscious of this need before, the reality of the COVID-19 economic fall out has made public policy and non-profits more so prioritize this crisis, whether through bill pay assistance, no-cost efficiency upgrades, or other programs.
An additional pathway many of these homes may seek out is taking their power bill into their own hands. In jurisdictions where energy markets are open, customers can shop around to different power providers to find out which companies will offer them:
The best prices on a flat fee basis
Unique rate structures that most benefit them, such as time-of-use rates that can help them pay less
Equipment that can help achieve greater energy savings, like smart energy tools
Atlantic Energy is one such provider that can work to highlight what will work best for your needs and unique situation. We're here to give you the reins in controlling your power bill. And we can do so by providing more efficient smart products that help you consume less energy, control household energy use, and even provide some fun extra smart tools (not just in your home, but also for your business). Check out what we can do for you by enrolling here.
Moving Forward
For those looking to the future of the energy sector, one which will hopefully be cleaner, smarter, and more customer-focused, its image is becoming clearer by looking back on the trends of the last year.