Keep an eye on home
anytime & anywhere.
Click the video link below and AtlanticEnergy will guide you through the set up of your AtlanticEnergy Mini 8 Wifi Smart Camera.
• Built in Wi-Fi - No Hub required
• 24/7 live video streaming
• Get motion alerts so you know if anything happens
• Night vision done right: see the whole room at night
• Two way audio: Listen for the kids or talk back to get someone's attention
• Turn alerts on and off by voice with Amazon Alexa, your Google Assistant

If something happens, you'll know right away. Atlantic's Smart Camera's plug into power, so they'll never run out of batteries before you get a notification.
​
The Atlantic Mini 8 is designed to look after your home even when you're not there. HD 24/7 live streaming and motion alerts with the Atlantic app, the Mini 8 helps you keep an eye on what matters most. Anytime & anywhere.
Browse through our most frequently asked questions
How do I connect my Smart Camera?
---
Step 1: Tap the + icon in the top right corner. Step 2: Tap "Security camera" Step 3: Plug the camera into the outlet. Step 4: Power on the camera. Step 5: The camera should make an audible sound. Once the red indicator light is blinking rapidly. Tap "QR Code" in the upper right hand corner. Step 6: Tap Confirm indicator rapidly blink. Step 7: Enter your Wi-Fi password. Step 8: Show your Camera the QR Code. Step 9: Once you hear the tone, tap "I heard the beep." Step 10: The connection will now be established and the camera is now ready for use. You can now assign a name to the camera. Example: "Front Door Camera"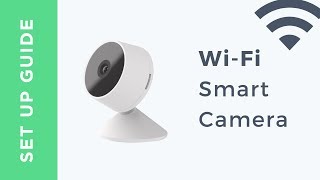 ---
Do I need the AtlanticEnergy app to use my products?
---
Yes, the AtlanticEnergy app is required in order to utilize our smart devices. Please make sure you have downloaded and installed the app before you set up your devices. In the case that you haven't yet. This is where you can get started: https://www.atlanticenergyco.com/start
---
How do I register the AtlanticEnergy app?
---
We recommend that you register with your phone number. This will be useful once sharing your devices with friends and family. Step 1: Open Atlantic Energy app. Step 2: On the login screen, tap register. Step 3: Enter your mobile phone number or email address. Step 4: If you have entered your mobile number, please expect an sms text with a verification code. If you have entered your email address, please expect an email with your verification code. Step 5: Enter your verification code. Step 6: Create your password. (Password must contain 6-20 letters and numbers) Step 7: Once password is created tap confirm.
---
Do I have a 2.4 gHz Wi-Fi Connection?
---
Atlantic Smart Devices can only be connected to the 2.4 GHz band on Wi-Fi routers or access points (AP). Please keep in mind: - All Wi-Fi routers have a 2.4 GHz band. - Newer routers are often dual-band router, with 2.4 GHz and 5 GHz bands. - If both of your 2.4 GHz and 5 GHz Wi-Fi bands have the same name (SSID) and password, you will not have any problem connecting your Atlantic Smart Home device regardless of which Wi-Fi network band your smartphone is connected to. You do not need to read further. To find out whether you need to connect to a different Wi-Fi network to set up your Atlantic device, go to Settings>Wi-Fi (or Wireless & Networks) on your smartphone. How many Wi-Fi networks do you see that belong to you? - I see ONE network: If you only see one Wi-Fi network name that belongs to you, you can proceed with setting up your Atlantic device with this Wi-Fi connection. - I see TWO or more networks: If you see two or more Wi-Fi network names that belong to you, then one may be a 5 GHz band. Please continue reading the article below Image 1. IMAGE 1, Example of ONE Wi-Fi network: As seen in the iPhone Wi-Fi settings below, this is an example of only one Wi-Fi network name that belongs to the user, "Myhomenetwork." The others (Dark Knight and Snooze) do not belong to the user, and he cannot connect to them as they are password protected. I have more than one network name that belongs to me. How do I identify my 2.4 GHz band network? From your smartphone's Wireless settings page, look at the names of your Wi-Fi networks. - A 2.4 GHz network may have "24G," "2.4," or "24" appended to the end of the network name. For example "Myhomenetwork2.4" - A 5 GHz network may have "5G" or "5" appended to the end of the network name, for example, "Myhomenetwork5" What about Guest networks or other network names? If your Internet Service Provider (ISP) set up your network, they may have set one of your network bands as "Guest" or a different name. You may need to log in to your Wi-Fi router to see which name is associated with which Wi-Fi band.
---
Can I use my Smart Camera outdoors?
---
AtlanticEnergy devices are meant for internal use only. They can not with stand the outside elements.
---
---
Check out our blog post below to follow along with the unboxing, setup, and use of one of the Wi-Fi Smart Cameras for use in an actual apartment.
Contact our Support Team M-F 9AM - 5PM EST and we'll help you find a solution.